.

Frequently asked questions
Below I've gathered some of the most frequently asked questions about my services. If you'd like the same information in Swedish, click here.
.
Can we book you for a session outside of Turku?
Of course. I'm based in Turku, Finland but travel all over Finland and out in Europe for my work. If you would like me to tell the story of what's most important in your life at this moment, I'd gladly travel anywhere.
Where my work has taken me
What kind of services do you provide?
I document people. No matter what the occasion my focus will always lie on telling the stories of people and what's most important in their lives, be it friends, family or a new fiancé.
What does your wedding photography services look like?
That depends on the wedding. I prefer joining you from early morning since it's only by being a part of your entire wedding day that I get the chance to capture those small moments that fly by. Because it's not only the monumental moments like the "I do"s that you'll want to remember, the real magic happens somewhere in between.
Can we meet before the wedding to plan the day?
I will absolutely want to meet you before you wedding day. When the day finally comes we'll immediately have to get pretty personal so having the first introduction already done would certainly help.
Do we have to keep photography in mind while we plan our day?
Not if you don't want to. I'm there to document the day as it actually where, not some made up Pinterest version. I have however picked up quite a few tips and tricks from all the weddings I've attended (over 60 now) that might help you plan an enjoyable and stress free wedding day.  I've gathered these tips in a pdf that is included in every wedding package. I will also of course help you with any questions you might have during the process of planning your wedding day.
What happens after the wedding day?
If I'm wth you for the entire day I'll get home with closer to 4000 photos. I'll go over these photos multiple times and with quality before quantity in mind I'll put together a story of about 300 photos including the portraits that you get to pick out yourselves. I then edit all photos and deliver them in a beautiful package with a pair of small surprises. Then it's up to you to find a good time when you can sit down together and through your wedding story relive that beautiful day that was all yours.
Can we order prints and albums directly from you?
Yes and I hope you will! My photography focuses on atmospheric and natural storytelling which naturally comes through even better when experiences on a matt, heavyweight structured paper in your hand. I therefor hope you consider ordering a stack of 30 high quality prints on aquarelle paper of your day so your first experience of your wedding story won't be in front of a computer.
It is also possible to order a professionally made album including at least 70 of your favorite images on beautiful matt heavy weight paper in a linen, hard cover book. This is a way to make sure your wedding photos will live on and that you actually later in your everyday life will be reminded of that important day of your lives.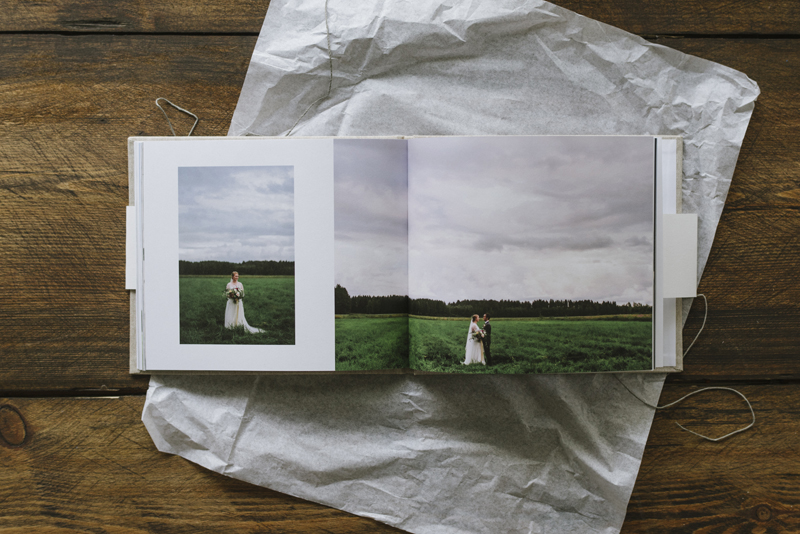 Have you got more questions for me? Don't hesitate to get in touch.